Home
About Us
Directions to Words of Faith
GP Ministries
Itinerary & Calendar
Faith Place Book Store
The Leadership Institute
LCU - Tupelo Campus
International Network of Affiliate Ministries
Staff
Intercessory Prayer
Leadership
Online Bible Study
Pictures @ The Word
The (Cathedral)
Register
Sign In
Enlarge Thy Tent - Expansion 2017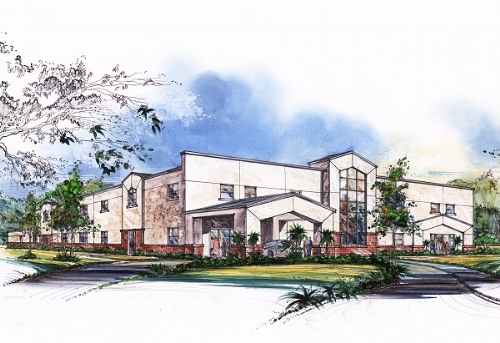 Architectural Drawing by Stephan K. Upham, M. Arch. Copyright �????�???�??�?�© 2000
This project involves the Renovation of 12,500 Sq Ft Facility. Phase I of the coming Ministry Complex to House the Vision given to its Founder Gerald Patterson Sr. Phase II of the (4)Phase project will involve the construction of an Outreach & Community Center in the heart of a well deserved Community. Phase I will build a "Bridge of Faith" and a sense of community that has been missing in the Body of Christ. Phase I will provide a place of Worship, Evangelism, Development of People, and Service to the Community.
(See Phase II Floor Plan)

It is our desire to serve the community in Excellence with Christian Values, Ethics, and Moral Standards by serving Youth, Families, and Senior Citizens.
God desires that His people would see and experience Him in His Fullness, that "The Church" becomes the expression of Gods' love towards His people, that His people are Developed, Nurtured, Cared For, and become the Living Organism called the Body of Christ, that we no longer have to wonder, and seek after things that have no lasting effect on our lives. We can then see a visual demonstration of the Body of Christ at work and the Kingdom of God becomes a reality. (Ephesians 4:11-16)
Join with us today in "Bringing the Kingdom of God to Reality". Contact our office or e-mail us at geraldpatterson5@gmail.com for more information or go to our secure on-line giving and make your contribution today.
The Project Goals at the completion of all (4) Phases are:
Description:
Grant Schools - Grant Teams - Financial Support

School of Ministry - People Development

Ministry Complex - Community Development

Missions - Local & Foreign

Marketing
Needs:
Prayer - The Catalyst of Vision

Laborers - Care for the Harvest

Faith Partners - Provision for Vision
Results:
Community Development Foundation

Grant Writing

Grant Consulting

Project Funding

Planning Strategies

Community Center - Outreach

Daycare

Christian School

Mentoring / Tutoring Program

Senior Adult Activities

Food Distribution

Sporting Events

Drama / Dance / Arts

Outdoor Recreational Facilities

Basketball

Baseball

Walking

Tennis

World Headquarters - Administration
The Cathedral - Worship & The Arts
A Remnant
A Legacy
Plan of Action:
Indentify & Connect with Intercessors

Indentify & Connect with Laborers

Identify & Connect with Faith Partners

Develop and Synergize a Financially Stable Body of People of Substance
Results of Action: